Everyone has them.
Everyone hides at least SOME of them...and those of you who plaster them all over FB, just know you are highly entertaining and totally being judged which is the only reason you're still on the Friends list.
Dirty little secrets...some may involve the horizontal tango and some may just be your bathroom (*raises hand*) Link up with
Aubrey at High-Heeled Love
and see what the Facebook posts have been lacking and how
your
secrets measure up.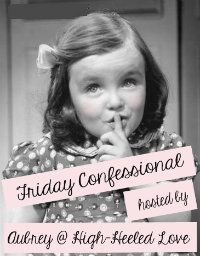 Step into the Confessional....
I Confess...
Normally I would be hopeful for a valentine's day gift...just based on the track record with Irishman. However with the wedding in April looming and the bills rolling in, I'm guessing a hand drawn
ode to love
on a piece of toilet paper might be the max.
(ps: have you voted for my story yet? If I win, I won't have to sell the children to pay for the wedding. VOTE! SAVE THE CHILDREN http://bit.ly/UUFuhX)
I Confess...
Also, I am a bit overwhelmed with it all. Planning a destination wedding is a bigger bag than I thought. If anyone wants to take over or just send money for the wedding I would be forever grateful!
I Confess...
Today I will be snorting coffee grounds.
I Confess...
Seeing cars in my rear view mirror at night with only one headlight illuminated wigs me out. Fix that noise!
I Confess...
The static electricity is SO HORRIFICALLY awful in our house that I have taken to wiping my hair and clothing down with dryer sheets. While I smell so fresh and so clean clean....my skin still itches and hurts. I don't usually wish away winter, but the DRY winters? Yes...go away.
I Confess...
I finally called in the big guns and had a professional come in and help me with the floors and bathrooms. They are gloriously clean. The scent of pinesol and bleach permeated the house for hours. Is it possible to have an orgasm from breathing in?
I Confess...
It is unreasonable for me to truly believe a meteor will fall on just the right person. However, a plummeting toilet seat? Just might happen...and THAT would be awesome! Of course I wouldn't want any innocent bystanders injured...
Okay...I'm spent and the coffee is empty. Time for another pot!