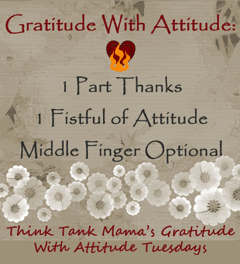 Have a few words you'd like to share? Give a holla to
Adrienzgirl at Think Tank Momma
. You can link up with the rest of us thankless Thankful folk and we'll share in the therapeutic cleansing ritual of giving thanks. Let us begin....
Dear
Emotionally Stunted Dumbass
Student:
Thank you for demonstrating the vast range of your whistling skill set. It was quite impressive listening to Pop Goes The Weasel for 25 minutes. Who needs reading, math and problem solving skills? Whistling will open many doors for you.
Here's the thing kid….if you don't knock that shit off Imma rippin your 'whistle' right off your face and shoving it in your ear!
Thankyouforknockingthatshitoff
Duck With Wicked Fast Hands
Dearest Victoria's Secret Fitting Room Attendant:
I have had boobs longer than you have been alive. I do not need a fitting from you. I did not
really
need a 40DD….its called a joke. I did not
truly
try on the thong I took into the fitting room with me, please pick your chin up off the floor. AND just for the record, my name is not really Puddin and I honestly don't give a flyin shart that your young perky boob self is named Ashley.
Help Someone Who Needs It
The Old Ass Duck
Want more of me? You can also find me posting
HERE
today at Lessons Learned . A million thanks to Working Mommy for sharing her blog today.