It's Memoir Monday as started by Travis at I Like To Fish. Just a few rules...well...just one that I can remember - It's gotta be true. No problemo dude-o. Settle in for a quick trip into the past.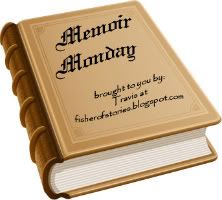 Most everyone knows that while pregnant your body changes in uncountable ways. Some permanent, some not so permanent (THANK GOD). One of the blessings that goes with the territory is loss of balance….assuming you had any to begin with.
Really, there are some of us that should just wrap ourselves in bubble wrap for the total 10 month experience. I should've started the BUBBLE WRAP YOUR ASS movement two years ago. I didn't. It would've behooved me but then when have I done something simply because it hooved someone's be?
So picture me (okay, any ole gal, since 99.9% of you think of me as a duck) 5 months pregnant. I was HUGE. To drive home this point, at five months gestation I had strangers asking me if I was having triplets. Lovely, eh? Slap a Goodyear sticker on my ass and I could pimp myself to the BLIMP people for advertisements at major sporting events.
Five months into my whale look a like contest and I'm walking into the doc's office for an ultrasound. Out of nowhere some invisible force pushes me
I lost my balance while walking over a curb
, I teeter….I warble…I scream….aaaaaaaand face-plant in the asphalt parking lot. Can you believe all I said was "Ouch"?
True.
A few emergency room hours later, a visit to the xray picture people, as well as my doc and I've officially busted my kneecap. Damn near clean in two. The baby was/is fine. No one wanted to touch me with a ten foot pole due to the pregnancy. No surgery to fix the knee cap…just a LONG 10 weeks in a full leg brace in the summer…in the Midwest….and a follow up with 3 months physical therapy.
So I'm sitting in the extremely uncomfortable exam room at the Orthopedic Surgeon awaiting my the official prognosis and course of action. In walks the doc, a jovial fella, with my xrays in hand. He says, "Geez! What happened to you?"
Why is that everyone has jokes when you're cranky and nearing beached whale status?
Of course I reply with a slight shrug of the shoulder, "Some asshole knocked me up."
It was a full ten blinks before he opened his mouth again. I'm thinking he was using his doctor super powers to gauge whether he should laugh or ignore the comment.