It's Memoir Monday as started by Travis at I Like To Fish. Since we know this new phenomenon is spreading like crabs through a high school football team, lets join the fun.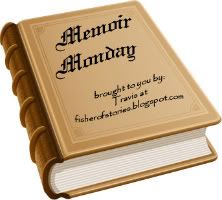 Sixteen and itching to get away from
prison
home, without the slightest bit of hesitation I jumped on the offer to join my best friend and her family on a short road trip over the Easter holiday break. Eight hours away, to the south, lies a small
microscopic
town with its
inbred bassackwards
hillbilly folk. Not exactly exciting; not exactly New York or LA or even Chicago, but at least it was away from home. AND my girlfriend and I were allowed to drive down in her convertible while her parents followed in their vehicle. SCORE! For 8 awesome hours we got to pretend we were on our own; top down, radio blaring and enough gossip and giggling to make you want to puke. Oh and I'm sure we flashed a few truck drivers along the way.
Fast forward to the drive home (because really, it was a dew drop of a town and the most exciting happening was old Mr. Elmer farting in the Post Office and ending up with a puddle of shit around his boots. That's not exactly People worthy gossip). We stop for lunch at a famous restaurant, Lambert's Café "The Only Home of Throwed Rolls".
No typos, that's the name.
Yes, they are famous for throwing rolls at patrons while they eat.
Upon being seated Sue and I immediately noticed a table of Airmen in their flight suits eating nearby.
We're 16.
We have Guydar (kinda like penis radar but a nicer way of saying it).
After much debate and a few double dog dares from Sue's father (and you KNOW Duckalicious RARELY backs down from a dare even at the age of 16), we giggle and swagger over to the table of guys. There's just something about a man in uniform – even to this day they still
warms my girlie parts
make me smile.
Anywhoha, we approach and the low rumble of conversation stops as four pair of eyes travel the length of us. Only two smile (damn! Rough crowd already and we haven't even done anthing yet!)
We get down on one knee.
Curiosity is passed around the table.
Sue and I suck up courage from our toes and open our mouths…
"Baby, baby, I get down on my knees for you.
If you would only love me like you used to do, yeah.

We had a love...a love...a love you don't find everyday.

So don't...don't...don't...don't let it slip away.
You lost that lovin' feeling,

Whoa, that lovin' feeling,

You've lost that lovin' feeling,

Now it's gone...gone...gone...woooooah"

By this point the entire restaurant has gone silent; food falling out of open mouths, glasses breaking, rolls thudding to the floor. I'm sure a few wretched discretely into their napkins and birds began death spirals into the windows.

As we ended our shortened rendition of this Top Gun classic, every table BUT the one to which we handed our pride erupted in laughter and applause. Not these four men. They sat stock still and looked at us like the stupid 16 year olds that we were.

Shortly after that I was thunked in the head with a roll.

THAT broke the table into laughter.
Those 2 minutes were the beginning and the end of my singing career. Scarred for life I now just SIGN words to songs. I don't SING them and I think ears across America are sighing in relief.