It's Memoir Monday as started by Travis at I Like To Fish. Since we know this new phenomenon is spreading like crabs through a high school football team, lets join the fun.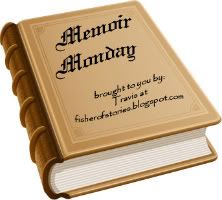 While I was in college studying to become an Interpreter, I worked for a major airline (now defunct but it was an icon of its time). One of the perks is very cheap airfare if you're willing to fly on stand-by; very fair trade off for the ability to book your own ticket with as little as an hour's notice. Especially when you're 20 years old!
On a Friday-eve with nothing but a boring weekend in my tiny apartment in front of my cableless 19 inch TV, I had not a thing to look forward to other than my evening run with the dog which involved tactical maneuvers of FBI proportions for avoiding Chester The Molester's apartment building. I swear that guy had every piece of spy equipment he could get his hands on! Even the restraining order didn't get rid of him entirely. So when my awesome pal Ben called, I jumped on the chance to join him in Minneapolis for the weekend. His employer was having a company party and he needed a sidekick. The ex girlfriend was going to be there.
I so love revenge….
A quick dash home, toss together a small carry-on and back to the airport I went. Seems I forgot only one tiny thing – to pee. I have a phobia of airplane bathrooms. I think the correct term for this is Milehighairbornedefecationitsobia. No matter…it's a relatively short flight not to mention I scored a seat in First Class.
As the minutes ticked by and the air pressure changed along with altitude, the constant ups and downs were significantly and negatively affecting my bladder issue. I tried reading. I tried working. I tried sleeping. I tried to snag a few minutes on the PA system. I've always wanted to try my skill at stand up comedy. What better place to practice on a captive audience? Nothing worked…with the ingenious tendency youth affords I thought it remarkably smart to drink water. Somehow, the act of drinking parlayed the physiological communication screaming BLADDER FULL MUST VOID, DUMBASS.
I think I stood at the galley entrance for the entire descent to be sure I was the first off the plane in hopes of finding a bathroom just outside the arrival gate. Doing the potty dance while hurtling through the air at 49873626 miles per hour is no small feat people!
We land. I deplane. Locate bathroom. One track mind. I'm tenacious like that.
As I'm rushing through the door with eyes only for the first open stall, I find myself wedged in the doorway with another woman on the same quest. Yes. Just like the movies
..sigh
..
.
Both struggling to free herself in order to be first into the bathroom. Finally wiggling free, the
bitchwhore
woman pushes me out of her way. While resisting the urge to drag her backwards by her hair, I notice every stall is full. She is now the head of the line. I.AM.SECOND.
My bladder does not understand this concept. It only knows MUST. PEE. NOW. With as much politeness as I can muster, I sweetly ask the woman if I may please go before her as I've just gotten off a 6 hour flight where the on-board lavatory was out of order (total lie but I'm so effin' desperate I'm dancing as I spin my tale). With cold calculating eyes and hardness in her voice that only fridged ice coursing through her veins could produce she says, 'NO'.
"Look lady! I don't think you understand how badly I have to go. I could quite possibly pee on your shoes before the next stall even opens up. If the trash can weren't built into the wall I'd be hovering over it as we speak."
"NO!" she says with an I
dare you look
in her eye.
So I did it.
Yes.
I did.
I peed on her shoes. Right then and there and let me tell you! It was the best damn decision I have ever made. The look on her face was so priceless I would've done it again if I'd had anything left in me. Fortunately I was wearing a skirt and had all my clothes and whatnot in my bag for the weekend. It was just a short trip afterall. When a stall opened up, I enthusiastically announced NEXT, grabbed a papertowel, wiped my leg and pranced out of the bathroom (because I am SO classy like that).