It's Memoir Monday as started by Travis at I Like To Fish. Since we know this phenomenon has been spreading like crabs through a high school football team, lets join the fun. Click on the book for links to more players on the team....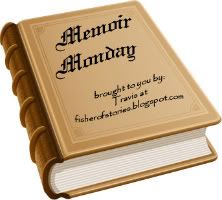 (
repost because hardly anyone...okay like 3 people...was following me when this post originally went up. And since we're coming off a holiday break I'm a little strapped right now....so here ya go....)
Lip Venom
So I splurged - new lip plumper called Lip Venom. it's been out among the less archaic for some time. I decided to see for myself if it really was a runner up to ass fat injections
...collegen...same thing.
The packaging is uber cool - ultra modern with a kick of the old school. On the packaging of this tiny little tube
(about ----------------------------- that big) is a small warning.
"The sensation of heat and tingling is normal."
Who doesn't want a little heat and tingle on their smackers? I slap some on and ziltch. No tingle. No heat. No more $16.00 plus shipping (It was a splurge, people). I thought maybe it needed a second coat so I slather a little more on and zoom out the door to my freelance job.
3 blocks later, in the midst of a mental tirade on the crooks at Sephora who sold this crap (Venom my ass) and crushing disappointment that my pouter wouldn't make Angelina Jolie jealous anytime soon, I felt the tinniest bit of tingle. WHOOT! Hope is blooming. A quick peek in the rear view mirror; they didn't look any bigger per se but they were sportin a new healthy pink. I could work with that.
A few blocks later KA POW! My eyes start watering and I nearly drive off the bridge instead of over it (probably a subconscious need to quench the fire - WATER!). The throbbing intensifies and my lips threatened to jump off my face. They, my lips, turned the corner before my Jeep did (think Nutty Professor). Whatever smartass decided that this level of heat and tingling was 'normal' must lick Bic lighters for fun.
All I really wanted do to was lick my lips to quench the fire. Pure vain fear kept me from doing so. What if that crap got on my tongue...and IT swelled? I'd show up to work looking like a moose.
To make matters worse, tossing the Jeep into park, I folded down the visor mirror to make sure my lips hadn't swallowed my face and found glazed to my bottom lip was a dead gnat. I'm not sure which was more disturbing; my lip gloss being so damn hot it fried a bug to my lip or that I couldn't feel A DEAD BUG stuck to it.
BUYER BEWARE
I'm seriously rethinking that "Increase Your Bust Size" cream I saw on an infomercial. What if the cream dripped somewhere else on my body?
--------------------------------------------------
**Running low on cash for the month? Can't make it until your next check? Have no fear, there are resources available to you. Hop online to find a care-free
cash advance
, at the click of a button. Never go broke, when you don't have to!**